As the menfolk left, Abigail sat an empty picnic bench. "Giving up teaching, huh? It's a big step, but I'm doing something crazy too. I'm marrying Jared on Saturday."
Mandy screamed, ran around the table, and hugged Abigail. She only calmed when Abigail explained the business arrangement and her great-aunt's ridiculous will. "So we want you to witness our signatures, please."
Mandy frowned. "So, Adam gets Montgomery Hall if he lets your great-aunt cheat you out of a romance. You shouldn't have to marry a stranger to make things easier for your brother. As usual, he gets the best of everything handed to him on a plate. Okay, I'll witness you signing your life away for your brother's convenience, but I don't like it."
Back when Abigail had been only three or four years older than Ben, she'd teased her big brother over his infatuation with Mandy. They'd dated from the start of their high school sophomore year through to their graduation ball. Neither could wait to leave Westhorpe Ridge after they broke up. Mandy went on to study math and business administration while her brother left to become a doctor. Abigail hadn't known Mandy still stewed over the past.
Jared and Ben meandered back, both licking enormous ice creams. Mandy grinned at Jared. "Chocolate sprinkles and raspberry syrup? Talk about a sugar rush before bed. Run inside, Ben, and say good night your grandmother while you finish your ice cream. I won't be long, squirt."
The youngster went to talk to his grandmother while Mandy witnessed the signatures. Formalities done, Abigail realized that in two days she'd be Mrs. Armstrong. She still wasn't sure how she felt about that.
Welcome to Marketing for Romance Writer's Book Hooks blog hop. Please take a moment to check out snippets my fellow authors have shared using the links at the foot of the post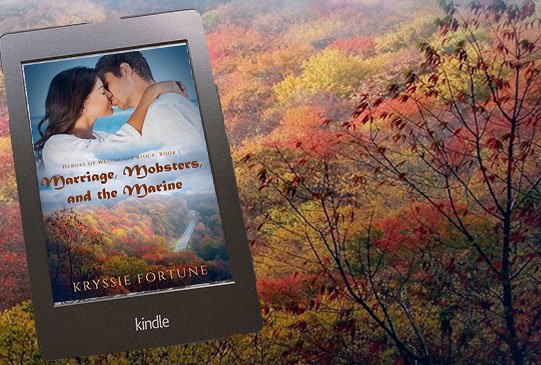 Buy Links


Amazon Australia
https://amzn.to/2yXYSYG
OR READ FOR FREE ON KINDLE UNLIMITED
Blurb
Christmas sucks. No family. No tree. No decorations.
Abigail Montgomery lives for her regular visit to Masked Nights BDSM club. Thanks to her great-aunt's will, she needs to abandon her spanking lifestyle and find a husband—fast.
Desperate, she advertises for a husband.
Jared Armstrong, a former, Marine, cold-blooded sniper, and occasional Dom, needs $125,000. Without it, Mobsters will murder his family. His solution – marry Abigail for her money.
Jared plans to hunt down the mobsters then reimburse Abigail. Together they face extortion, a kidnapping, and an attempted murder. Along the way, Jared steals Abigail's heart, but she'd promised him a divorce after two years.
Will Jared walk away? Or can he work some Christmas magic and make their relationship real?
A stand alone romance and Book One of the Heroes of Westhorpe Ridge Trilogy